"Bell" redirects here, for the female dog companion of Bell's friend Helen Keller see Belle.

Alexander Graham Bell was a Scottish-born American inventor, scientist, and engineer who is credited with inventing and patenting the first practical telephone. He also co-founded the American Telephone and Telegraph Company in 1885.
He does not have a Ordinary People Change the World book to his name, but he appeared in an episode of Xavier Riddle and the Secret Museum called I Am Alexander Graham Bell.
He is voiced by Gavin McIver-Wright.
Born in '47 he would've been ~12 years old when the Riddles met him in '59.
During their second meeting, in ~1886 he would've been around 39 years old.
Appearance
Alexander has fair skin, white hair, and a white beard. He has a grey-brown suit and brown boots. Underneath it, he wears a white shirt and a red tie.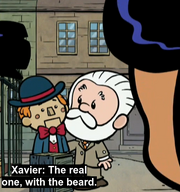 Xavier actually references "the beard" to Brad, indicating that despite being pre-teen, Bell (like other historical figures) isn't just shown in his popular adult appearance for the benefit of the viewer, but that the time-traveling main cast ALSO sees them in this age-enhanced way.
Bell actually only had a sideburn-beard in his younger days, not growing facial hair on his chin until much later.
Trivia
He had a benefactor relationship with Helen Keller, which is why she had a cameo in his episode.