Amelia Mary Earhart was an American aviation pioneer and author. Earhart was the first female aviator to fly solo across the Atlantic Ocean. She set many other records, wrote best-selling books about her flying experiences, and was instrumental in the formation of The Ninety-Nines, an organization for female pilots. In 1937, her plane disappeared somewhere over the Pacific ocean while making a flight around the world. Her fate remains a mystery to this day.
She has an Ordinary People Change the World book about her, and she appeared in an episode of Xavier Riddle and the Secret Museum called I Am Amelia Earhart.
She is voiced by Markeda McKay.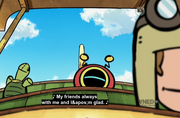 Amelia is partially visible in her plane during a song where
Berby
and
Zoom
play, immediately after the end of
I Am Julia Child
preceding the start of the
I Am Neil Armstrong
story.
Appearance
As a child, Amelia has fair skin and brown hair covered by a brown aviator's hat, which has big goggles on it. She wears a light blue sweater with a pink heart on it, and a pink scarf. Her skirt is a slightly darker shade of blue, and she wears black sneakers.
Since she was visited in the year 1904, she was ~7 years old when she met the Riddles, just like Bach and Houdini.
Etymology
When Yadina quips "Adventure MUST be your middle name" Amelia responds "no... it's Mary"
Trivia
See also