Berby[1] is a time machine-like robot who lives at the Secret Museum. She helps Xavier, Yadina and Brad travel back in time and also functions as the Museum's curator, ensuring that all the exhibits are in their proper places. She is unable to speak, but she makes robotic beeping sounds and is good friends with the kids.
Origins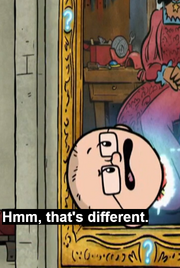 At the start of
Secret Movie
in the painting of
Great-Great Grandma Riddle
(and her black cat) which replaced that of
Great-Great Grandpa Riddle
(and his white dog) there is a collection of parts on the desk next to her strongly resembling Berby.
This implies that if she did not outright create Berby that she at least knew Berby and was involved in making repairs to her.
Language
Berby speaks in what sounds like gibberish, but Xavier seems to understand her sometimes. In I Am Rosa Parks when the captions read "blarp bloop" for Berby's sounds, Xavier translates "Berby says we're in Alabama"
Competition
A Scoreboard shows she is beating Xavier Riddle 100-0 at the start of I Am Alexander Graham Bell.
This has increased to 911-0 after Berby out-races Nellie Bly's train after I Am Jackie Robinson preceding I Am Anna Pavlova.
Interstitials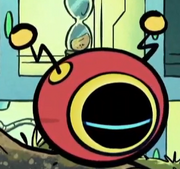 Berby is shown sleeping at the start of a Bradman interstitial involving visiting
Golda's Mom
's grocery store, the made up city created by
Jane Jacobs
,
George Washington Carver
's secret garden, the front yard of where the
Bronte Sisters
lived or the tennis court of
Arthur Ashe
. Although Berby normally travels with all four companions simultaneously, a series of interstitial shorts pairs her with each member of the team:
Relics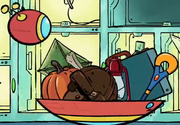 Berby is seen putting away a series of relics at the start of
I Am Cleopatra
, including:
She is also carrying around other relics on her sled which weren't yet put away, including:
green kite
orange pumpkin
helmet
suitcase
ankh
This is a recurring skit, it was also played between I Am Lou Gehrig and I Am Marie Owens
Trivia
Her name is sometimes misspelled as Burby.
She somehow dies in I Am Madam President after running out of power. However, she comes back to life.
References