Berby[1] is a time machine-like robot who lives at the Secret Museum. She helps Xavier, Yadina and Brad travel back in time and also functions as the Museum's curator, ensuring that all the exhibits are in their proper places. She is unable to speak, but she makes robotic beeping sounds and is good friends with the kids.
A Scoreboard shows she is beating Xavier Riddle 100-0 at the start of I Am Alexander Graham Bell.
This has increased to 911-0 after Berby out-races Nellie Bly's train after I Am Jackie Robinson preceding I Am Anna Pavlova.
Interstitials
Although Berby normally travels with all four companions simultaneously, a series of interstitial shorts pairs her with each member of the team:
Relics
Berby is seen putting away a series of relics at the start of I Am Cleopatra, including: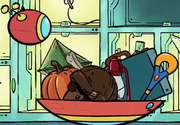 She is also carrying around other relics on her sled which weren't yet put away, including:
green kite
orange pumpkin
helmet
suitcase
ankh
This is a recurring skit, it was also played between I Am Lou Gehrig and I Am Marie Owens
Trivia
Her name is sometimes misspelled as Burby.
She dies in I Am Madam President after running out of power. However, she comes back to life.
References
Community content is available under
CC-BY-SA
unless otherwise noted.