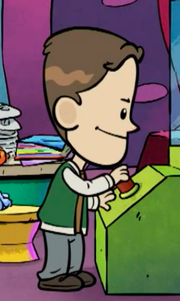 Big Kid is how the credits (and closed captions) refer to a boy who appears in I Am Dolores Huerta. He is shown taking up a lot of time on a game at the KidZone. He also seems to be older than the rest of the kids there.
His model is recycled from Benjamin and Theodore from I Am Winston Churchill. In turn, his model is reused for the Band Leader in the same episode. He and the Band Leader are both voiced by Eamon Hanson.
Small Kid thanks him at end as he gives up his spot after the timer for using the arcade game chimes.