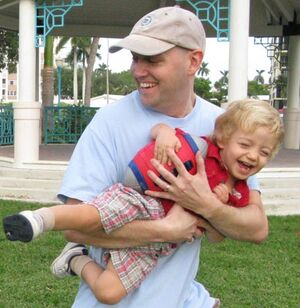 Brad Meltzer is the author of the Ordinary People Change the World book series upon which the Xavier Riddle and the Secret Museum series is based, and creates the show as well.
The character Brad Scott is based on him, while Yadina Riddle is based on his daughter and Xavier Riddle is based on his youngest son.
Meltzer followed up his 2014 book "Heroes for my Son" with a 2016 book called "Heroes for my Daughter".
Possible cameos
One of the regular museum entrances is a painting of a sitting bald man who somewhat resembles him.
At the end of I Am Eleanor Roosevelt Xavier is handing out maps to a bald man with a girl clutching his leg, who somewhat resembles Meltzer too.
In a 2010 interview promoting the first book's development, NPR included a photograph from Brad's wife Cori which showed a younger version of Brad.
It also interestingly shows that his younger son wore red (like Xavier Riddle does) and his older son wore green (like Brad does) while the daughter is a brunette like the girl who appears in the episode holding Meltzer's right leg.
Community content is available under
CC-BY-SA
unless otherwise noted.