Brad Scott Meltzer is the tritagonist of Xavier Riddle and the Secret Museum, and the best friend of both Xavier and Yadina.
Appearance
Brad is a young boy with light skin, and light-brown hair, which is kept in a very short buzzcut. He wears black square glasses. He wears a cream-colored shirt underneath an unbuttoned green jacket, olive colored pants and black sneakers over light blue socks. He also wears a red cape.
Attires
Etymology
He is named after Brad Meltzer, who he resembles.
"Danger's not my middle name... it's Scott" is what he says at the start of I Am Amelia Earhart. Also at the end of the same episode, he says "mine's Scott" after Amelia reveals her middle name is Mary.
The international Xavier Riddle website reveals his last name to be Meltzer, proving that he's a self-insert.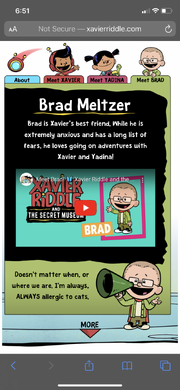 Personality
Brad tends to be the most nervous and neurotic of the group. He is sometimes hesitant to go on adventures. Brad is quite partial to butterflies, as well as action heroes. Time-traveling makes him temporarily dizzy; the further back the three go, the dizzier he gets.
He is described as having "delusions of averageness", and is apprehensive over everything. His friends, Xavier and Yadina, encourage him to live a little and to try new things.
Apart from being neurotic, he's also very shy. He has a hard time making friends, and it's implied that he didn't have any friends prior to meeting Xavier and Yadina.
In I Am Susan B. Anthony, Yadina remarks to Brad "we're just used to looking after the Secret Museum ourself" indicating that the 3 kids did not discover it together: in the past, Xavier and Yadina had tended it alone prior to inviting Brad to join them.
Trivia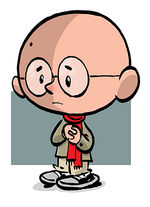 In concept art, he was originally bald and had round glasses and a scarf instead of a cape.
At https://pbskids.org/xavier if a browser clicks the picture of him hanging from a rope enough times he will say "doesn't matter WHERE or WHEN we are, I'm always, ALWAYS allergic to cats"[1]
On the website, he is voiced by Jonah Bromley as opposed to Wyatt White.
Captions mispell his name "Bard" in I Am Golda Meir (see here) and in We Are the Bronte Sisters (see here)
He is Brad Meltzer's favorite character, and describes him as the "handsomest cartoon character ever drawn."
As revealed in "I Am Zora Neale Hurston", he got his cape when he was a baby.
He suffers from imposter syndrome.[2]
He might have a crush on Catherine the Great in I Am Catherine the Great, as he blushed while speaking to her, much like Yadina did when talking to George Washington.
It is shown in different episodes that Brad is Jewish.

At the start of I Am Tomioka Tessai, he is showing Xavier and Yadina a dreidel (a Jewish toy) he inherited from his father.
In "I Am Madam President", he says "Oy vey," which is a Yiddish phrase.

He has blushed at girls four times, all for the eponymous characters of I Am Catherine the Great, We Are the Brontë Sisters I Am Eleanor Roosevelt, and I Am Sacagawea
He enjoys ballet, as shown in I Am Anna Pavlova and I Am Billie Jean King. However, he was hesitant to join the ballet class in the latter episode because of gender stereotypes that ballet is only for girls.
Video
References