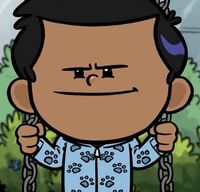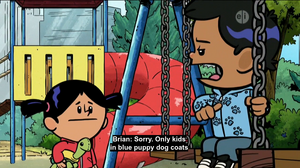 Brian (voiced by Davide Fair: only named in the closed captions and credits) is a bully who appears in I Am Jackie Robinson and I Am Theodore Roosevelt. He attends school along with Xavier, Yadina, Brad, Charlie, Jin, Harper, Tyler, and Jamie.
He doesn't allow anyone who doesn't have a puppy-dog coat like he does play on the swings. His discrimination against Yadina Riddle prompts Yadina to discriminate against the kid in a green coat. After learning a moral lesson from Jackie Robinson, Yadina reforms him (and herself) at the end of the episode.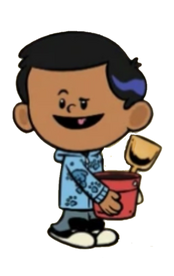 He also made another appearance in the episode, I Am Nellie Bly.