Anne, Emily, and Charlotte Bronte are well known as poets and novelists. Like many contemporary female writers, they originally published their poems and novels under male pseudonyms: Currer, Ellis, and Acton Bell. Their stories immediately attracted attention for their passion and originality. Charlotte's Jane Eyre was the first to know success, while Emily's Wuthering Heights, Anne's The Tenant of Wildfell Hall and other works were later to be accepted as masterpieces of literature.
They do not have Ordinary People Change the World books about them, but they appeared in an episode of Xavier Riddle and the Secret Museum called We Are the Bronte Sisters.
Charlotte is voiced by Siena Bidefell, Emily is voiced by Scarlett Bidfell, and Anne is voiced by Teagan Sellers.
When the Riddles meet them in 1826, Charlotte would be approximate 10, Emily about 8, and Anne about 6.
Appearance

Anne has blonde hair done in ringlets. She wears a cream-colored dress with a blue bow and black shoes.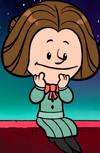 Charlotte has brown-reddish hair done in a bun. Her dress is green with a red bow.

Emily has brown short hair. Her dress is purple with a yellow gem.
Trivia