Cleopatra VII Philopator (Also Known As Cleopatra) was the queen of Ancient Egypt. She was the last active ruler of the Ptolemaic Kingdom of Egypt, nominally survived as pharaoh by her son Caesarion. As a member of the Ptolemaic dynasty, she was a descendant of its founder Ptolemy I Soter, a Macedonian Greek general and companion of Alexander the Great.
She currently does not have an Ordinary People Change the World book to her name, but she appeared in an episode of Xavier Riddle and the Secret Museum called I Am Cleopatra.
She is voiced by Saara Chaudry.
Cleo's coin appears again at the start of I Am Susan B. Anthony.
As she was born in 69 BC and met in 60 BC, she would've been approximately nine years old when she met the Riddles.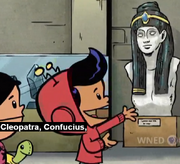 Xavier points out a statue of her and
Confucius
early in
Secret Movie
.
Trivia
Cleopatra shares her voice actor with Carmen Mariposa, a character from Let's Go Luna!.