Kong Qui, most commonly known as Confucius was a Chinese philosopher of the Spring and Autumn period. The philosophy of Confucius, also known as Confucianism, gave prominence to personal and governmental morality, correctness of social relationships, justice, kindness, and sincerity.
He has a book from the Tie-in Books series about him, and appeared in an episode of Xavier Riddle and the Secret Museum called I Am Confucius.
He is voiced by Ian Ho.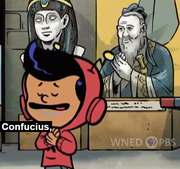 Xavier points out his statue and mimics his pose in
Secret Movie
.
Appearance
Trivia
Confucius's Golden Rule is "Treat everyone the way you wanted to be treated"
References