Dr. Zoom (aka The Shell Shadow Queen[1]) is a stuffed turtle toy belonging to Yadina Riddle. She is green with a yellow cape, which can also be used as a parachute. Yadina carries Dr. Zoom everywhere with her. According to Yadina, Dr. Zoom loves plants, especially lettuce, grass and spinach. In I Am Mary Shelley, Dr. Zoom is referred to with she/her pronouns, indicating that she is female.
Yadina regularly refers to Zoom as a distinct entity, such as saying "our hero" when Brad catches her. Brad didn't really save Zoom though, because Yadina actually flung Zoom up in the air when she fell and the yellow cape acted as a parachute, letting her come down upon Yadina's head.
Doctor Zoom could be considered one of the main characters of the show, since like Xavier Riddle/Yadina/Brad, she is also mentioned during the opening theme song!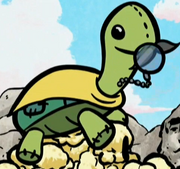 An "evil but cuddly" version wearing a monacle and mustache appears in
We Are the Bronte Sisters
, having stolen the world's popcorn. She is confronted on
Mount Rushmore
by
Bike Man
and
Wonder President
.
Yadina is having a dispute with Zoom in I Am Lou Gehrig. Dr. Zoom knows what she did. Officer Zoom is what she is called at the start of I Am Marie Owens.
Trivia
Videos
References
See also