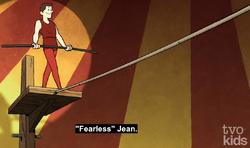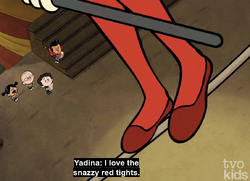 Fearless Jean is a tightrope walker who Harry Houdini admires in I Am Harry Houdini.
This is likely meant to refer to Jean-Eugène Robert-Houdin the namesake of Houdini.
Some artistic license is taken however: Robert-Houdin died in 1871 while Erik Weisz/Weiss (who later renamed himself "Harry Houdini" in Jean's honor) was born in 1874 (three years after his death) so they could not have met (barring time travel). Harry had instead named himself after Jean upon reading his autobiography.
Jean was actually born Jean-Eugène Robert to Prosper Robert and Marie-Catherine Guillon, Jean hyphenated his surname after marrying Josèphe Cecile Houdin, the daughter of watchmaker Jacques François Houdin.