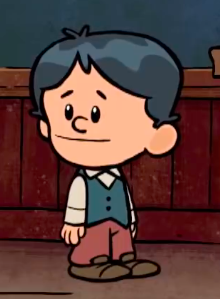 George is a student at Alexander Graham Bell's school in I Am Alexander Graham Bell.
He is mentioned to have "lost his hearing before he could learn very many words".
He is likely based on George Sanders (possibly nicknamed Georgie), a student of Bell's in real life who was deaf from birth.
This is a bit of a mismatch since being born deaf would mean you lost hearing before learning ANY words, and "very many" implies George would've learned SOME words before losing his hearing.
He is voiced by Oliver Federowich.
Age
Since he was five by October '72, by July '86 when six-year-old Helen was introduced to Bell for the first time, he would've been 18-19 years old.
References
https://www.salemnews.com/opinion/columns/column-alexander-graham-bell-and-the-north-shore/article_1cd9aebc-40a8-5fb5-b4f5-92dbcb7609d1.html "Alexander Graham Bell's journey to his monumental invention began when he took on 5-year-old George Sanders of Salem as a pupil on Oct. 1, 1872. The boy was born totally deaf and had never spoken a word in his life."
See also
Community content is available under
CC-BY-SA
unless otherwise noted.