George Washington Carver (voiced by Christian Campbell) was an American agricultural scientist and inventor. He actively promoted alternative crops to cotton and methods to prevent soil depletion. While a professor at Tuskegee Institute, Carver developed techniques to improve soils depleted by repeated plantings of cotton.
Brad Meltzer did not write an Ordinary People Change the World book about him, but he appeared in an episode of Xavier Riddle and the Secret Museum called I Am George Washington Carver.
His secret garden also makes a cameo at the start of I Am Harry Houdini and his titular episode when Brad is drawing one of his Bradman comics with Berby.
Born in '64 he would've been 6 years old when he met the Riddles in '70.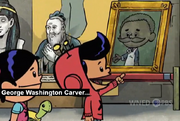 Xavier points out a painting of him at the start of
Secret Movie
.
Appearance
George, as a child, is depicted with brown skin, curly brown hair, and a mustache. He wears a blue suit with a white apron over it, and a small flower. He wears brown shoes.