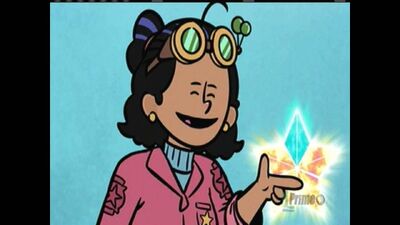 Great-Great Grandma Riddle appears in Xavier Riddle and the Secret Movie: I Am Madam President. She is the great-great grandmother of Xavier and Yadina.
She co-founded the Museum atop The Secret Museum, and can appear as a hologram projected by Berby despite having passed away.
She shares many similarities to her great-great granddaughter, Yadina Riddle; both wear pink, both make jokes, both like cheese and grape jelly sandwiches, and both like turtles.
She is voiced by Teresa Pavlinek.
It is never clarified whether she is their ancestor on the maternal or paternal side of the family. However since she bore the surname "Riddle" this indicates it would be whichever side of the family (mother or father) the surname originated. That is traditionally the father's side (with wives taking husband's surname) but this is not always practised in modern marriages.
She also appears to have a husband resembling Brad who co-founded the museum with her, and is the bald man in the chair in the painting.
Yadina's great grandma is likely her daughter.
Community content is available under
CC-BY-SA
unless otherwise noted.