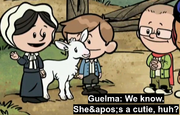 Guelma Penn Anthony is the elder sister of Susan B. Anthony and their brother Daniel in I Am Susan B. Anthony.
She and Daniel vote to name a goat "Gertie" in contrast to Susan's preference for Bea.
She is voiced by Ava Close.
Born in 1818, she would've been approximately nine years old in 1927 when she met the Riddles the first time, and ~36 during their 2nd visit in 1854.
Etymology
Her middle name was based on Quaker William Penn.
When she was married Aaron McLean in 1839 she took on his surname.
Reference
http://www.fomh.org/Data/Documents/GuelmaAnthonyMcLean.pdf
Guelma Anthony McLean
(1818 - 1873)
Guelma Penn Anthony was Daniel and Lucy Read Anthony's oldest child.
Daniel named their firstborn for the wife of the late seventeenth-century Quaker leader William Penn
Susan and Guelma were always very close and enjoyed spending time together.
While Susan was teaching in Canajoharie, New York, she often spent her vacations visiting Guelma and her family in Battenville.
Guelma dedicated herself to her family. Although there is no record that she participated inthe women's rights movement or other social reforms, she was in complete sympathy withSusan's activism.