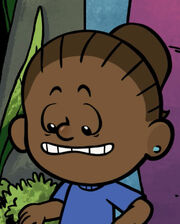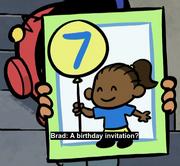 Harper
is a friend of
Xavier Riddle
who goes to school with him. She is shown to like dinosaurs.
She appears in the episode I Am Sir Arthur Conan Doyle which is the first episode to reveal her name. She is voiced by Beatrice Schneider.
The birthday party she invites Xavier to is indicated as being her seventh by the blue seven written on a yellow balloon on the cover of the invitation sent to him. She attends school along with Xavier, Yadina, Brad, Brian, Jin, Charlie, Jamie, and Tyler.
Earlier appearances
Little Girl is how captions refer her when she says "I play a little every day" at the start of I Am Johann Sebastian Bach.
She plays "Twinkle Twinkle Little Star" on the recorder and Xavier is envious. Later in the episode she plays "Mary had a Little Lamb".
She also appears as part of the Nature Troop at the end of I Am George Washington. Here she is still wearing the same blue top and yellow dress.
At the end of I Am Eleanor Roosevelt it also appears to be her, but in a different outfit. A sleeveless light-purple dress. She still has the same ponytail and the same turquoise stud earrings. Here she is clutching a green triceratops toy.
Xavier recommends she go see Murray and she is holding a dinosaur plushy. It's unclear if this means it happens after he discerns her like for dinos after meeting Doyle, or if he's just really bad at remembering stuff.
Trivia
See also