I Am Eleanor Roosevelt is an episode of Xavier Riddle and the Secret Museum.
Synopsis
Eleanor Roosevelt helps Xavier learn to take every chance he has to help others when he gets assigned the most boring job in the museum--map hander-outer.
Characters
Curriculum
Take every chance you get to help others.
Broadcast
This episode aired along with its sister episode, I Am Theodore Roosevelt on January 22, 2020, at 9:00 AM EST.
Trivia
Eleanor Roosevelt's lesson had been revealed on the Hero Maker game beforehand.
Matthias (or perhaps a recolor of him) from I Am Catherine the Great can be seen when the kids first encounter Eleanor.
Brad may have a crush on Eleanor, as he blushed whilst she danced with him.
A caricature of Brad Meltzer makes a cameo towards the end.
At the start when Brad comments on Yadina's eyebrows (she raises them) he is shown standing behind her, so he should not have been able to see them.
Video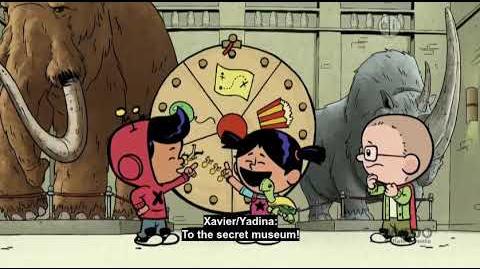 References
↑ https://www.google.com/search?safe=strict&sa=X&sxsrf=ACYBGNQZaRFIhd3LwCMpc5vcCTuFT3iOmQ:1577972294869&q=xavier+riddle+and+the+secret+museum+season+1+episode+16&stick=H4sIAAAAAAAAAONgFuLVT9c3NMywSDE0LDapVIJw0wqyLPKKLSu0pLKTrfRLyoAovqAoP70oMdcqtSCzOD8ltXgRq3lFYllmapFCUWZKSk6qQmJeikJJRqpCcWpyUWqJQm5pcWppLpCXWJyfp2CoANWnYGgGADjg0_J2AAAA&ved=2ahUKEwjliefwhOXmAhWYX80KHVcQDSsQmxMoATAYegQICxAe&biw=1366&bih=6555
Community content is available under
CC-BY-SA
unless otherwise noted.