Xavier Riddle and the Secret Movie: I Am Madam President is an hour-long special based on the Xavier Riddle and the Secret Museum series.
Synopsis
In this exciting one-hour adventure, Xavier's sister Yadina Riddle goes on a journey into the past to meet some of the great female trailblazers in history. From those heroes, including Jackie Joyner-Kersee, Amelia Earhart, and Sally Ride, Yadina learns that just because something's never been done before, it doesn't mean you can't do it! Even if that something is becoming the first female President of the United States![2]
Plot
Act I
The museum is making a brand new Hero Exhibit, and the gang gets to help build it. They encounter tons of heroes like Harriet Tubman and Isaac Newton. Yadina wants to add something special to the exhibit - a president. She decides to pick a girl president, but all the presidents are boys. Yadina wonders how she can do something that's never been done before, and the answer is, to go to the Secret Museum. The kids try all sorts of entrances, but almost get noticed by people. Eventually, they go inside the painting, but the painting looks different this time, it's of Great-Great Grandma Riddle instead of a bald man with glasses.
When the gang gets to the podium, the artifact is.....a five-point star. It doesn't even show them the hero, the year, or location. The kids decide to travel in time anyways. Once they do so, they end up back at the Secret Museum. Half the artifacts are just gone. Yadina finds a mysterious woman who copies her every move. She doesn't say who she is, or how she knows who Dr. Zoom is. She just says that she's here to help the gang. Yadina explains the situation to her and ask how she can do something that's never been done before. The lady answers that they'll need to have an adventure. They run up to the podium and find the star again. The lady explains that the star is a puzzle, and to complete it, they need to meet five different heroes. The kids then proceed to travel back in time.
Characters
Curriculum
Just because something's never been done before, it doesn't mean you can't do it.
Also, each historical figure featured in this special has their own moral:
Amelia Earhart - be prepared
Jackie Joyner-Kersee - go step by step
Junko Tabei - never give up
Sally Ride - work hard
Quotes
Click here to see them all!
https://xavier-riddle-and-the-secret-museum.fandom.com/wiki/I_Am_Madam_President/Quotes_For_Each_Character
Broadcast
This movie aired on March 16, 2020 at 9:00 AM EST.
Trivia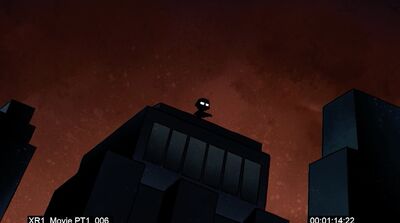 This is the first installment of the franchise to not have a historical figure in the title.
The promotional poster for the movie (see right) is a reference to the original Star Wars Episode IV: A New Hope movie poster.

Another one is a parody of Batman: The Animated Series.

This is a first movie for the franchise.
Brad Meltzer revealed this movie on his Twitter on December 14, 2019.[3]

His tweet included a picture of a water bottle saying "Yadina Riddle President 2056". Given that she is approximately 6 years old sometime during the years of 2018-2020 (see timeline) this would indicate that she would be in her late thirties when running.

Amelia Earhart is visited for a second time, making her the first historical hero to be visited twice.
This is the first installment of the franchise to feature four heroes.
Sally Ride is the first LGBTQ hero to appear in the series, as she had a relationship with a woman. However, no reference to it is made in the movie otherwise they would get banned in Alabama.
So far, Jackie Joyner-Kersee is the first and only hero in the series to still be alive.
Some screen caps, renders, and morals for Kersee, Earhart, and Tabei were revealed on the Hero Maker game.
This movie reveals that the gang's great-great grandparents founded the museum.
Video
References
↑ https://www.wgte.org/schedules/program/hd/xavier-riddle-and-the-secret-movie-i-am-madam-president/episode-0/03-16-2020/09-00-00
Community content is available under
CC-BY-SA
unless otherwise noted.