Isaac Newton (voiced by Jackson Doherty) was an English mathematician, physicist, astronomer, theologian, and author who is widely recognised as one of the most influential scientists of all time, and a key figure in the scientific revolution.
He appeared in an episode of Xavier Riddle and the Secret Museum called I Am Isaac Newton.
As they say he is born in 1643 and visited 1658 that makes him approximately 15 years old when encountering the Riddles.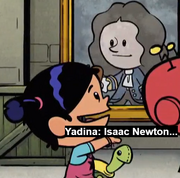 Yadina points out a painting of him at the start of
Secret Movie
.
Appearance
Isaac, as a child, is depicted with fair skin and long, wavy brown hair. He wears a blue and yellow jacket over a white shirt, brown pants, white tights, and black shoes with yellow buckles. He also wears a white cravat.