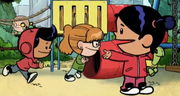 A kid in a green coat appears in I Am Jackie Robinson. She wants to use the slide but is denied by Yadina Riddle. Yadina declares the "only kids in red coats" prejudicial block for slide usage in attempt to gain a sense of control after Brian discriminates against Yadina's coat to prevent her from using the swings.
Aside from her coat, she wears blue pants atop white shoes, black-rimmed glasses, and possibly some kind of hair band to tie her brown hair into a ponytail.
She sighs sadly and immediately obeys Yadina, doing a 180 and walking away. This seems to make Yadina regretful as she shouts "wait!" at the girl, who does not react and keeps walking away.
At the end of the episode, when Yadina and Brian make up, she can be seen playing with Xavier, as Xavier chases her around the yard. Then she uses the slide after him.
She recurs at the end of I Am Theodore Roosevelt where the captions describe her as "kid" when parenthesizing her laughter as she traverses in front of the main cast on the monkey bars.
Community content is available under
CC-BY-SA
unless otherwise noted.