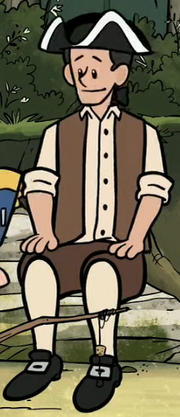 Lawrence is the "brother" that George Washington told the Riddles he was going to meet in I Am George Washington. He is voiced by Carson Gale.
This is likely a reference to Lawrence Washington the elder half-brother of George. Born in 1718, he would've been approximately 25 years old when the Riddles met him in 1743.
Historically they were actually half-brothers (the show doesn't mention this) sharing the same father: Augustine Washington.
Lawrence's mother was Jane Butler Washington (born Jane Butler), Augustine's first wife, who died in 1729. Augustine married George's mother Mary Ball Washington (born Mary Ball) in 1931, giving birth to George the next year in 1932 when Lawrence was 14 years old.
Lawrence tragically contracted tuberculosis in 1749, dying of it in 1752 when he was approximately 34 years old. George was approximately 20 years old (roughly 9 years after meeting the Riddles and Brad) when his brother died, and 17 when he got sick (6 years after the Riddles' encounter).