Lou Gehrig was an American professional baseball first baseman who played 17 seasons in Major League Baseball for the New York Yankees. Gehrig was renowned for his prowess as a hitter and for his durability, which earned him his nickname "The Iron Horse"
He does not have an Ordinary People Change the World book, but he appeared in an episode of Xavier Riddle and the Secret Museum called I Am Lou Gehrig.
He is voiced by Roman Pesino.
Met in 1913, he would've been 10 years old upon meeting the Riddles.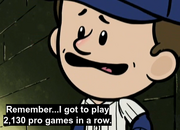 When Berby fast-forwards, he mentions "been playing for the past sixteen years" in respect to Major League Baseball. As his career is known to have lasted from 1923–1939 (from when he was 20 to when he was 36), this would mean they would've met him in approximately 1939 (his final year). He actually gives more specifics, since he says he "got to play two thousand one hundred and thirty pro games in a row".
This record
was set 2 May 1939, so the Riddles must've met him then or later during the year, and not earlier. This could mean he was between 35-36 years old when they met him, and that it would be approximately between 2 to 3 years before his death.