Marie Owens (born Marie Connolly[1]) is believed to have been the first female police officer in the U.S. and the first female police officer in the Chicago Police Department, in 1891, retiring in 1923. Holding the rank of Sergeant, Owens enforced child labor and welfare laws.
She does not have an Ordinary People Change the World book, but she appeared in an episode of Xavier Riddle and the Secret Museum called I Am Marie Owens.
As they meet her in the year 1860 she would've been approximately 6-7 years old. 44 years later[2] when they fast-forward to meet her a 2nd time, she would be ~50-51 years old in 1904, sixteen years a widow and 19 years prior to her retirement at 70 years old.
She is voiced by Holly Gorski.
Brother
Brendan is what captions say is the name of the boy she calls 'little brother'. It is unclear where PBS researched this information.
Career
Prior to working as a police officer, she worked for a year in the health department along with four other women:
Mrs. Byford Leonard
Mrs. J. R. Doolittle
Mrs. Ada Sullivan
Mrs. Glennon
They were "the first board of sanitary inspectors that ever were given official authority in any city of the union".[3]
Etymology
She was born Marie Connolly (her maiden name is sometimes mispelled "Connelly") and became Marie Owens when she married Thomas Owens in 1879, and kept it after his death in 1888.
Connolly would have still been her surname when she met the Riddles in 1860, nineteen years prior to her marriage to Thomas.
Numerology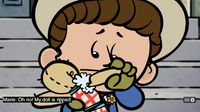 She is shown in 1863 wearing a badge with the number "97" on it. This was actually her official number when she became a Sergeant after 1891. Regularly referred to as "Sergeant No. 97", she probably would not have been able to predict as a child what her future number would be. So it is possible (like how after fast-forwarding in time, the historical figures still seem to look like children when they should be adults) that this was a hologram created by Berby to make her easier to recognize.
Family
Marie had a total of five children by 1888 when her husband Thomas Owens died
she named her firstborn son after Charles Stewart Parnell
she had a daughter she lived with after retirement
References
See also