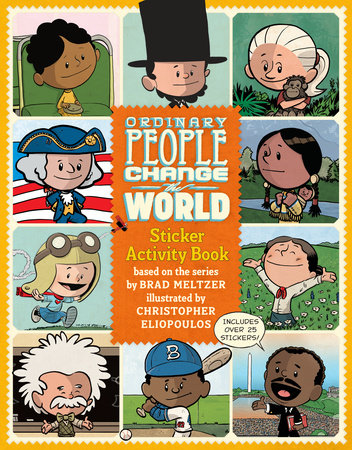 Ordinary People Change the World is the book series by Brad Meltzer that the show is based on. Although there are 74 eleven-minute episodes and one 55-minute special, the series only had 29 books about the following figures:
Frida Kahlo
Anne Frank
Benjamin Franklin
Leonardo da Vinci (due 14 April 2020)
Billie Jean King (5 February 2019)
Gandhi (in both I am Gandhi and A Graphic Biography of a Hero)
Jane Goodall (in both I am Jane Goodall and I Am Caring)
Martin Luther King, Jr. (in both I am Martin Luther King, Jr. and I Am Brave)
Rosa Parks (in both I am Rosa Parks and I Am Strong)
Albert Einstein (in both I am Albert Einstein and I am Curious due 2 June 2020)
Abraham Lincoln (in both I am Abraham Lincoln and I Am Kind)
Amelia Earhart (in both I Am Amelia Earhart and I Am Unstoppable)
Most books begin with "I am" mistakenly transcribed "I Am" (there is no uppercase A) in the gallery at https://www.ordinarypeoplechangetheworld.com/Books/
Some of the books in the series include titles which do not prominently display the name of their subject, instead using an adjective to describe them and using their name as a subtitle. These call themselves a "little book" and the gallery calls them a "baby board book". There are only so far FOUR, all of which reuse characters from the main series: Lincoln, King, Earhart and Goodall.
There is also a Journal for Extraordinary Kids with Lincoln & Sacagawea on the cover, and a Strong Girls Gift Set with Goodall, Parks, Earhart and Sacagawea.
Trivia
Brad Meltzer makes a cameo in every book. 
The series' art style is inspired by comic strips like Peanuts and Calvin and Hobbes, according to illustrator Christopher Eliopoulos.
In the TV series episode I Am Helen Keller, the cover of I Am Jane Goodall is seen, serving as product placement and indicating that the series of books exist in the Xavier Riddle universe.
In I Am Martin Luther King Jr, Rosa Parks makes a cameo.
In I Am George Washington, Jane Goodall makes a cameo, as does a copyright friendly version of Superman from DC Comics.
In I Am Harriet Tubman, MLK Jr and Neil Armstrong make cameos.
In I Am Sonia Sotomayor, Xavier and Yadina are mentioned as being part of Sonia's class, as shown on the chalkboard, also, Xavier, Yadina and Brad all make cameos at the end, as does a grown-up version of Billie Jean King.

Also, Xavier, Yadina, and Brad can be seen at the end of I Am Neil Armstrong, possibly hinting towards the TV series.
External links
Community content is available under
CC-BY-SA
unless otherwise noted.