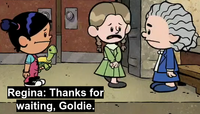 Regina appears in I Am Golda Meir. She nicknames Golda Meir "Goldie" and tells Golda Meir she didn't do her homework.
Regina Medzini (sometimes called Regina Hamburger-Medzini) is likely who she is intended to be, as she was a documented friend of Golda Meir's at that time.
As Regina met Golda Meir in 1906, by the time the Riddles visited in 1909 they would've been friends for approximately three years.
Sources
Michael Brown The American Element in the Rise of Golda Meir 1906-1929 "friend Regina Medzini"
Naomi Chazan Golda Meir and Israeli Leadership "She squabbled repeatedly with other strong women—from Ada Maimon and Manya Shohat to Beba Idelson and Shulamit Aloni—and though surrounded by women assistants who were also close friends (Lou Kedar, Regina Medzini), she made no attempt to promote women and went out of her way to deride feminists and feminism."
Meron Medzini page 8 of Golda Meier : A Political Biography "My late mother Regina Hamburger-Medzini was probably Golda's closest friend from the time they met in the second grade of Public School 4 in Milwaukee, Wisconsin in 1906 until Golda's death seventy-two years later."