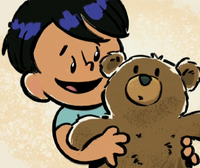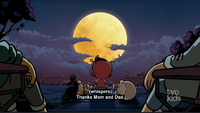 The dad/father of Xavier Riddle and Yadina Riddle is shown in a brief flashback at the end of I Am Tomioka Tessai, holding a teddy bear when he was younger.
This happens after Yadina Riddle asks her mom about the history of the family quilt.
As an adult, he appears as just legs at the end of I Am Cleopatra while Xavier tasks to him and mom about seeing a supermoon, where they are later seen seated.
Yadina's great grandma likely comes from his side of the family, since she has a dark skintone while Yadina's mom has a lighter skintone.
A sketch of him is shown in I Am Confucius when Xavier relates about soup.