Riddles' mom collectively refers to the mother of Xavier Riddle and Yadina Riddle, who are indicated to be full siblings.
Xavier's mom is pictured as a child building a train with her mom (the maternal grandmother of Xavier) at the start of I Am Tomioka Tessai.
At the end, Yadina's mom is sitting in a chair and is asked by Yadina about the history of the family quilt.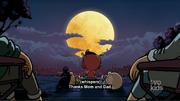 In both cases, the female depicted has brown hair, and her skin is paler than either Xavier or Yadina's. This commonality indicates it is the same woman. It also indicates they probably got their darker skin tone and black hair from their father.
At the end of I Am Cleopatra her legs are shown close-up, and her brown hair color is briefly shown from afar.
She also appears at the end of I Am Abigail Adams when Yadina gives her a painting. Here her face is conspicuously blocked by a blue butterfly.
Gallery