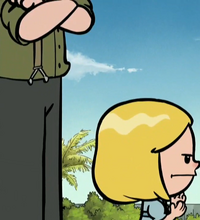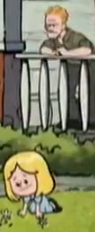 Sarah's dad is presumably the man wearing a green shirt who appears behind Sarah in I Am Jackie Robinson. When Sarah says "hey! you know you're not allowed on our lawn Jackie" and Jackie Robinson protests "but Sarah, I was just-" Jackie is cut off by the man clearing his throat and walking up behind her with his arms crossed.
Sarah initially has her arms open, but as soon as he appears, she adopts the same cross-armed mannerism as him, indicating that she is enforcing his rules.
He wears black pants held up with suspenders. His face is not initially shown and he doesn't speak any words, just the "(clears throat)" indicated in the captions. Later after Jackie talks to his mom, a wider shot does show the face.
Video