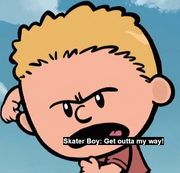 Skater Boy is the bully, who harasses Rosa Parks in I Am Rosa Parks. He rollerskates and shoves Rosa.
In real life, a white boy came skating down the sidewalk and pushed Rosa when she was young.[1] She shoved him back, but in the episode, she doesn't do that because violence isn't allowed on PBS. Instead, she stands her ground and doesn't move, letting the boy fall.
He is voiced by Eamon Hansen.