The Wright brothers – Orville and Wilbur – were two American aviation pioneers generally credited with inventing, building, and flying the world's first successful airplane.
They appeared in the Xavier Riddle and the Secret Museum episode We Are the Wright Brothers.
Orville is voiced by Maxim Lutterotti, and Wilbur is voiced by Roman Lutterotti.
Wilbur/Orville were born 1867/1871 so they would only have been approximately twelve and seven years old when they met the Riddles in 1878.
In 1901 (23 years later) they would be ~35 and ~30 years old.
Appearance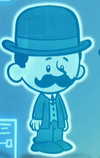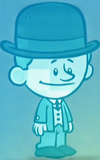 Orville and Wilbur look similar (both of them wear black shoes and black bowler hats), with some key differences:
Hair: Orville's is black, Wilbur's is brown
Suit: Orville wears black, Wilbur wears beige..
Mustaches: Orville has one, Wilbur doesn't.
References
↑

Xavier "it's twenty-three years later!"
See also