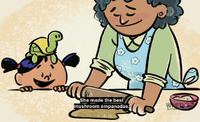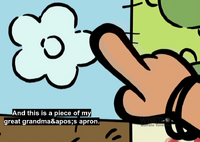 Yadina's great grandma is shown in a flashback at the end of I Am Tomioka Tessai.
Yadina recalls "she made the best mushroom empanadas" and was shown beside her, indicating she had known her.
Empanadas are a food originating in Spain and common in Latin American and Filipino cultures.
Given the pale skin tone of the Riddles' mom, it is likely that this is a great grandmother on Yadina's dad's side, who has a darker skin tone.
If that is the case, it would mean she is the daughter of Great-Great Grandma Riddle if the "Riddle" surname originates on Yadina's dad's side of the family.