Yadina Riddle is the deuteragonist of Xavier Riddle and the Secret Museum, and is Xavier's younger sister.[2] She is six years old and is initially in kindergarten,[3] but joins the 1st grade in the epsiode I Am Alexander Hamilton. In the future, she becomes the first female President of the United States of America.
Appearance
Yadina is a young girl with brown skin, and long black hair that she styles in pigtails, held up by pink scrunchies. She wears a pastel blue T-shirt underneath her pink overalls, which have a black star on them. She wears black sneakers with yellow socks. On both of her wrists, she wears two black bracelets.
Attires
Adult Version
Yadina Riddle as an adult has black straight but curved hair and a pink jacket with a tiny yellow star on it over a blue shirt with a black star on it, and white simple pants for the bottom, along with some accessories such as a white necklace and Dr. Zoom, her stuffed turtle.
Personality
Yadina, like her brother, seems to be eager to explore the secret museum and learn about various historical figures. She carries a stuffed turtle around with her named Dr. Zoom. She is quite talented, whether it be with books or with balls. She also has a habit of making terrible puns and then having to explain them, as Xavier and Brad usually have no idea what she's talking about.
Yadina is very extroverted (not a wallflower at all) and can be very honest with just about anyone, and sometimes even blunt! For example, Yadina dislikes meanness of any kind, and she will let anyone who is not being friendly to another, know exactly what she thinks of their behavior. When faced with conflict, Yadina is an expert at making others understand a situation from someone else's perspective, which ultimately requires empathy, self-awareness and self-regulation.
According to Brad Meltzer, she wants to be president when she grows up. This is supported by her saying as much in I Am George Washington and I Am Theodore Roosevelt. Also in I Am Eleanor Roosevelt she refers to the white house as "my future home: I plan to be president and this is where the president lives"
This focus on attaining the presidency manifests in We Are the Bronte Sisters with Yadina dressing up as Wonder President. Her interest in cosplay is built upon later in that episode with her acting as Ring Master.
The I Am Madam President special scheduled for March 2020 was announced with a picture indicating she would run in the year 2056. By that time when Yadina runs to be president in the year 2056, she would be in her 40's.
Trivia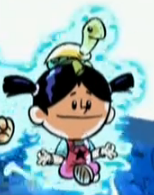 In concept art (see left) she had a sweater that made the letter "Y".
While travelling back in time (see right) she adopts a cross-legged sitting pose with her hands held out. Her palms are open except for a pinching movement between her thumb and forefingers. This is known as the Jnana Mudra. It is a movement of highest knowledge which is one of the Hasta Mudras (hand movements) in yoga.
Her motif might be black stars, based on her different outfits.
Video
References